Blog Archives
You've probably been seeing this sorts of articles all over the interwebs. If so, thanks for reading mine as well.
First things first, my wife and I had our third baby this year. That means I didn't accomplish as much as I wanted. And that's still the case. I'm lucky to have signed Scoville when I did since we were sort of "between kids." Since we had our third my homebrewing and board game design endeavors have faded.
But I'm not one to make excuses. Having our third child was our biggest accomplishment of 2014. However, this blog isn't about babies and being a daddy. It's about beer and board games. So let's start with the Barley and see what I actually managed to accomplish…
Barley Review
My goal for homebrewing in 2014 was 6 batches of beer. In that list was a pumpkin ale, an IPA, and a lagered Oktoberfest. I did none of those.
I ended up brewing three batches, one of which is sitting in a carboy waiting to be bottled. The brews were a brown ale called "Nobody Plays Brown," a hefeweizen called "You've Been Wheated," and the third is a Belgian dubbel called "Rolling Dubbels." For each I created a beer label, which was quite fun to do. Here are the labels: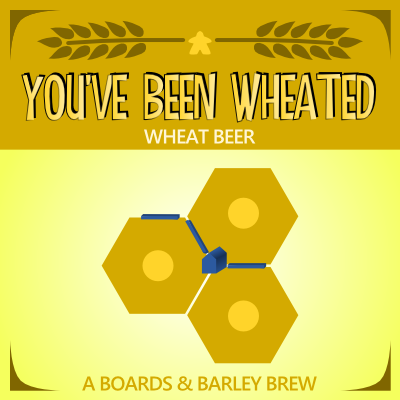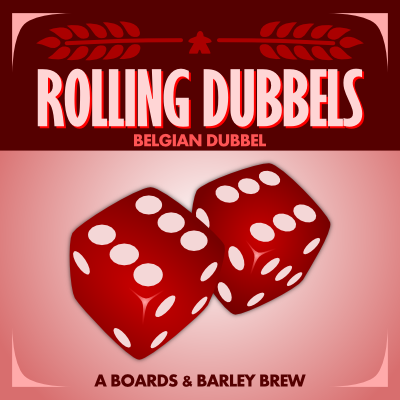 The brown ale and hefeweizen are currently in corny kegs in my basement refrigerator. I have a very generous neighbor who has loaned me a bunch of brewing equipment including the kegging stuff. The dubbel is sitting patiently for me to devote an evening to bottling.
Overall I'm a little disappointed that I didn't brew more. That's something I'll try to remedy.
On the consumption end of brewing I had a pretty successful year. I began using UnTappd and have been able to have a great record of the brews I've enjoyed. In 2014 I logged 107 distinct beers. That's a new brew every 3.4 days… not too shabby.
So despite the lack of homebrewing I'd say that it was a successful beer year. It's unlikely I'll be able to log 100+ new unique beers in 2015, but I'll try my best.
Boards Review
Obviously the highlight of my 2014 from a board game perspective was the successful Kickstarter campaign that Tasty Minstrel Games ran for my first published design, Scoville. It raised over $106,000! It was amazing to watch all that support come in during the campaign and I cannot thank all you backers enough.
The next highlight was getting to play Scoville with a final production copy at Gen Con. Punching out the little peppers, holding the pepper shaped bits, and planting and harvesting on the nice thick board with my close friends was a great memory.
On the design front, I didn't sign any games in 2014. But I blame that on the fact that I didn't really design any games in 2014. The biggest effort was for The Grand Illusion. This is a game where you are a street performer trying to work your way up to having a big time show in a theater where people come to watch you perform a grand illusion. Thematically it was my favorite game to work on. I love the theme of Victorian era magicians competing over audiences. My efforts for The Grand Illusion included making several prototypes, ordering a deck of cards from The Game Crafter, and playtesting it about a half dozen times. The end result was that it felt like it was lacking. So I shelved it.
Otherwise the only other thing of consequence from 2014 was a new design called Ziggurat. This is a resource management game where players are trying to be the best contributors to build the ziggurat. This game has one of those unique elements which sets it apart. It has been played about a dozen times now. While it plays through to the end, plays smoothly, and players are generally positive about it, it too feels lacking. It currently struggles from a "One path to victory" mentality and is devoid of any catch-up mechanisms. To alleviate that I want to add some private scoring conditions as well as allow scoring via different paths. This will make the game more "Euro-y" as well as more enjoyable. I'm hoping that Ziggurat will become my next signed game and I have big plans for it in 2015.
Unlike beer consumption, which I track with UnTappd, there is no app to track board game plays. Please don't tell me to use the Board Game Geek site to track my plays as I do not care for that interface. I've documented the games I played all year in my Monday Brews articles. However, I do not feel like reading through all of them and trying to figure out how many games I played, let alone how many unique games. It was a lot. But I have one favorite…
2014 Game of the Year – Five Tribes
When my friend Ben and I were in the exhibit hall at Gen Con we wandered past a demo of Five Tribes by Days of Wonder. We were immediately in awe of its beauty. The game simply looks fantastic. As we stood and watched the demo we quickly realized that this would be a good game, and a game we would like to own. Ben went to the counter and asked if they had any left, which they did not. However, he was told that they would have something like 50 or 100 copies the next morning when the exhibit hall opened.
So Ben got in the hall and in line as early as he could and was fortunate enough to snag a copy. His copy has since been played more than any other game by our gaming group.
The game not only has beautiful artwork, but it also has excellent wooden components. The palace and oasis pieces are particularly nice. Days of Wonder has a really excellent game with this one.
HONORABLE MENTION:
Istanbul: This game is clever and interactive. Players move their merchant around the markets in Istanbul trying to purchase or earn rubies. By making clever use of their assistants they create opportunities to earn those rubies. I love that the game is pretty easy to learn and understand while simultaneously creating interesting and deep decisions.
Moon Yeti Games
The final thing of note for this 2014 Year in Review is that three friends and I decided to begin a board game publishing company. We will be Moon Yeti Games and our plans are to publish great games with beautiful art and high quality components.
The highlight of 2014 for Moon Yeti was that we gave away about 100 copies of our first game, Mutiny, at Gen Con. Adam Buckingham designed a 4-card social deduction and back-stabbing game to go on the backs of our business cards. We played it a ton and settled on a design, had them printed, and gave them away at the convention. That was pretty awesome.
Moon Yeti is currently developing a version that goes up to 8 players. We hope to have it for sale through our website over the next few months.
For more information, check out moonyeti.com. Thanks for reading and I wish you a fantastic 2015!
Welcome to September. Schools have begun. Temperatures are moderating. Seasonal board game groups (like mine) are getting back together. The hot summer months are in the rear view mirror and the best board gaming months of the year are in front of us!
But today is Monday, so it's time to cover the Boards & Barley that I've enjoyed lately (last two weeks)…
The Barley:
BARLEY SPOTLIGHT: Southern Tier Pumking
Whoa… the pumpkin is strong with this one. It's almost like you are drinking pure pumpkin. Okay, it's not THAT strong. But this is an Imperial Pumpkin Ale. If you are desiring a brew with a lot of spice that instantly makes you feel like it's Autumn, then don't hesitate to try Southern Tier's Pumking.
The Boards:
BOARDS SPOTLIGHT: Five Tribes
I can't wait to play this again. I played twice and I am in awe of the replayability. This game is very enjoyable. The decisions are awesome, yet limiting. Other player moves mess with your strategy. The artwork of the Djinns is awesome. The components are fantastic. I simply can't wait to play this again.
Astro Regatta (Prototype)
Designer's Corner:
Due to my play of Coutier I am happy to report that another game design, Conclave, is now completely dead. I no longer have any need or desire to continue working on that design. Courtier isn't exactly what I had in mind with Conclave, but it's close enough that the games are too similar for me to bother with that design anymore.
I now have a new goal. Since I'll be attending Protospiel-Madison (October 24th-26th) I decided that it's time to get after my designs and really start putting them together. So my goal is to have three games ready for testing. The two you have heard me speak of are The Grand Illusion and Armada Galactica. One that I haven't written about tentatively has the name Night at the Museum, which obviously will have to change. I've been making extensive notes about all three.
Currently The Grand Illusion is ready for prototyping. Armada Galactica is nearly ready for prototyping. Night at the Museum needs more work before I'll mock it up. But all three should be ready in time for Protospiel-Madison.
I may also work on an expansion for something 🙂
There you go! What Boards & Barley have you been enjoying? Anything new that was more awesome than expected?